Heights Legal Business Services
We offer commercial legal services in a personalised, efficient manner
Welcome to Heights Legal
We are a legal practice offering commercial legal services in a personalised, efficient manner
Whether you are looking to set up a new business venture, buy or sell an existing business or are seeking advice in relation to any commercial agreements or your business structures, we are there to help, offering expert advice which takes into account the commercial realities of the matter concerned.
We strive to maintain the highest standards in the delivery of our services, to keep you fully informed at all times, to manage your costs and deliver on your timescales.
Our starting point is always to gain a full understanding of your business; your aims and objectives. We will apply that knowledge in everything that we do for you. You will receive services which are tailored very much to meet your specific needs and have been developed to add value wherever possible. So why not give us a call. Our initial consultation is always free.
Who Are We ?
Heights Legal is a straight-talking law firm with personality that comes to you. We pride ourselves on delivering the power of commercial law with minimum fuss and disruption.
We bring you all the expertise of a city centre law firm with the added extra of hands-on business experience.
Find Out More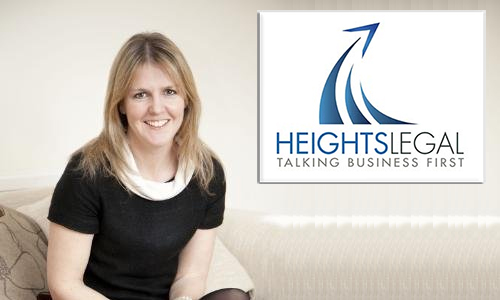 Regulated By The Solicitors Regulation Authority